4 stars! I really liked Tegan and Cage but the secondary characters, Ellie and Dirty were my favorite!
Cage stole Tegan's heart the very first time they met! She was 8 and he was 11. She'd asked him to join her tea party and offered him imaginary tea.
"Wait," he said. "You forgot to cheers."
I wrinkled up my nose. "Cheers?"
"Yeah, with your teacup. My little sister always makes me 'cheers' before tea. Like this." Lightly he clicked his plastic cup with mine. "Cheers," he said, glancing down at his cup then looking back to me.
"…Teacup," he finished, grinning.
"What?"
"Teacup," he repeated. "That's what I'll call you."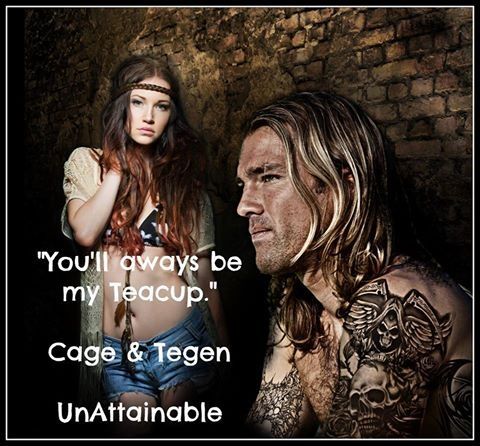 Little did she know that falling for Deuce's gorgeous son was the worst thing she could have ever done.
"Girls are stupid like that. Falling in love with what they can never have—the untouchable, the seemingly larger than life, the unattainable."
The adult Cage knowingly shatters Tegan's heart into a million pieces, why? Because he's Deuce's son, of course! LOL
Gone was the sweet, caring boy he'd been, and his place…
He became the cockiest, most self-centered, self-serving, egotistical, narcissistic, and depraved motherfucker I'd ever met in my entire life.
Which, when I think back on it, is probably why I fell even more in love with him.
Cage and Tegan's story is about letting go of the past and finding a future together that they both can be happy with. Tegan despises the lifestyle and everything it represents. Cage is being prepped to take over the MC when Deuce is ready to pass it down. Something or someone's gotta give.
Now for my favorite part...
DIRTY AND ELLIE!
Yes, I loved Dirty. He was a grimy MF'er in Unbeautifully but you really get to know his story and learn that he is hiding deep, emotional scars behind all that dirt and filth.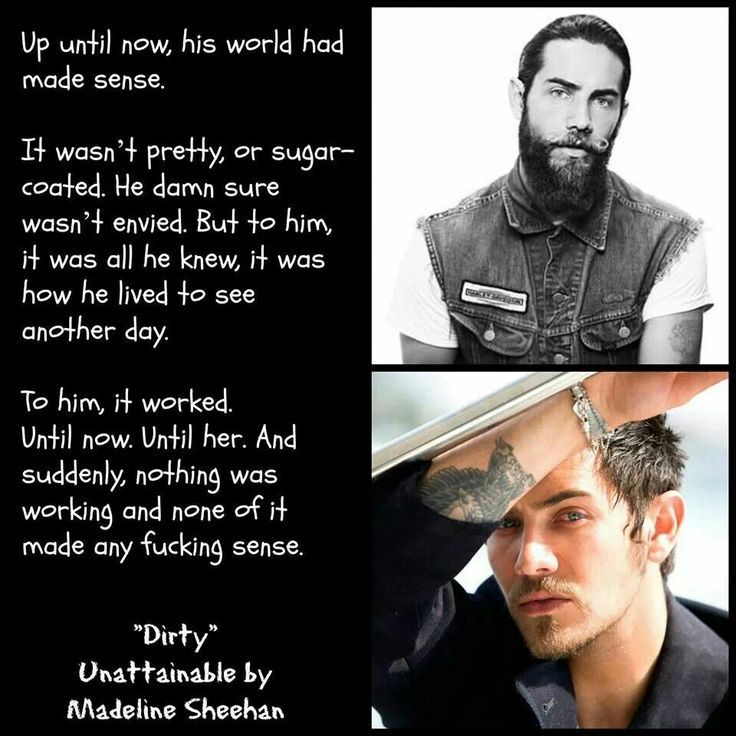 "Are you going to let me love you?" she whispered.
He swallowed hard. He couldn't speak; if he tried, he would just end up sobbing, so he nodded instead and Ellie's beautiful face, her eyes, her mouth, smiled at him in return.
Only Ellie can break through his barriers and help him discover that he isn't as despicable as he thinks. Dirty learns to let her in and finds out that he never wants to let her go.
"Hey," he [Cage] called out. Dirty stopped as Ellie kept walking.
He gave Dirty an inquisitive look. "What's up?"
The man shook his head. "It's her mom, brother," he said. "It ain't good."
Cage nodded as he studied Dirty. "You need anything, dude?"
Dirty shook his head again. "Just her," he said quietly and turned away.'
Loved that! I really hope to hear more about Ellie and Dirty as the series continues! Great read, my favorite series in the biker genre hands down!
Dirty was also featured as my Man Flavor of the week! Check it out!
http://www.rebelbookchicks.com/man-flavor-fridays.html